Drama/Naatak Night Online Invitation
The Drama Night or Natak Night is a great way to hold party for young children between 9 and 14 years of age. Young children love acting and if they are given a simple drama, they would really act in it. Usually drama nights are an addition for birthday parties or congratulatory functions etc. It need not be conducted in a formal venue but you can do that in your house itself.
Yoovite.com gives you an excellent online invitation tool by which you can invite your friends and relatives to your child party drama night. You can also encourage their children to participate as well. There are many drama night ideas that you can implement during the party. The following are some of them:
Script
Some children are really gifted and can write their own scripts. However, some children are good at acting if someone else writes the script. If you have some creativity, add some fun for parties by writing the script yourself or ask one of your friends to write. Whatever it is, make sure that it is simple and short so that you can finish the drama in 15-20 minutes.
Rehearsal
Since it is not a professional drama presentation, you don't have to toil your kids on several days in rehearsal. Simple scripts can be studied and rehearsed in couple of hours before the actual presentation. Make sure that there are refreshments arranged during the rehearsal. It is a good idea to email the script along with the invitation so that all children get to read and practice it before coming to your house. This will make the rehearsal very easy.
Costumes
Again just like the script, keep the costumes simple. Unless you are planning on a pre-historic context for drama where there are kings and queens, you don't have to care about turbans, crowns etc. Keep the story contemporary and arrange costumes that are easy.
Stage
Find a good place in your living room. The largest wall would be an ideal place. Move the furniture from that wall and set a temporary stage using wood and curtains. Get help from your friends to set the stage while the kids are rehearsing.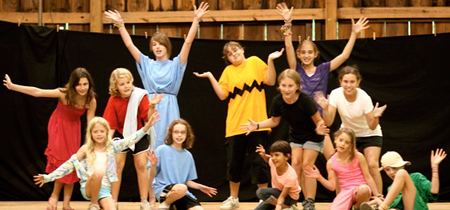 Timing
Dramas are an excellent alternative to birthday parties' games. You can set it for evening around 7 PM. Have people come over by 5 or 6. Let the kids rehearse while some of you prepare food and others set the stage. Include the timing in your Yoovite invitation and also mention the split up of times so that people can come and take over their individual roles.
Food
The food depends on the occasion and theme of the party. If it is a birthday, obviously there will be cake cutting before or after the drama. It is ideal to have the cake cutting after the drama so that children get time to rehearse and practice. Prepare good food that has two starters, main course and desserts of both veg and non-veg kind.