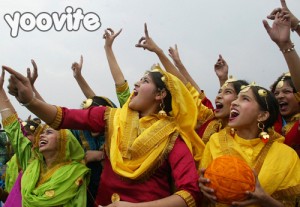 Vasant Panchami is one of the most important festivals in India. This festival in fact is to welcome the spring season. This festival is celebrated every year in the month of Magh that comes in the Hindu calendar. This means sometime between February and March according to the Gregorian calendar.
Every Indian festival is in some way related to mythology. According to legends, this day is associated with the famous poet Kalidas of India. The day when Goddess Saraswathi blessed him with wisdom and knowledge is celebrated throughout the nation as Vasant Panchami. So, the festival is celebrated in honor of Goddess Saraswathi who is believed to be the giver of education and learning by the Hindus.
As with all other Indian festivals, Vasant Panchami is also celebrated with great pomp and splendor all around India. There are so many pujas and rituals that are held at homes on this occasion. All the family members, friends and relatives are invited to the Vasant Panchami Ceremonies.
Invitation: All the families that hold pujas on this day will want to send out invitations to their near and dear ones. What better way than free online invitations to send out your Vasant Panchami Invitations! You can find a wide range of templates to choose from and make your invitation convenient and elegant.
Date and Venue: The Vasant Panchami Festival usually falls between January and March. The celebrations for this day are usually organized at home. However, if a group of families is organizing the Vasant Panchami celebrations, then it is best to go for a nice hall where the festivities can be held. Make sure that you choose a venue that is convenient for your guests also.
Decorations: On this day, most people get dressed in yellow garments for the puja and worship. Yellow flowers are used to decorate the venue for the celebrations.
Cuisine: The major part of the cuisine is also sweets in yellow color. Indian sweets like laddoos, Kheer, Malpua and Bundi are served for this occasion. Most of the time, these are prepared at home. In several north Indian states, the cuisine for Vasant Panchami celebrations includes several kinds of yellow color sweets and rice.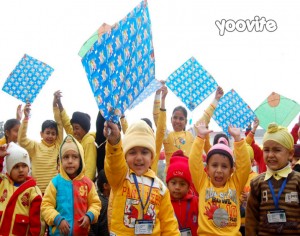 Other Activities: Vasant Panchami is celebrated all through India and the activities in each state are varied. Most of the household make floral offerings to Gods. It is believed that Goddess Saraswathi blesses the learners on this day. Kite Flying is a very popular engagement that is held on this day in northern parts of India. Almost all educations institutions and arts and crafts schools celebrate this day on a large scale.
Vasant Panchami also has another reason for celebrations. The northern parts of the country experience the coming of the beautiful spring season at this time. There are new leaves and flowers everywhere and the nature itself looks really favorable for some nice festivities. Vasant Panchami is also followed by another very popular festival of India, which is Holi, the festival of colors.