Moving into a new home is always a new beginning in anyone's life. You need the blessings of all your loved ones and this calls for a celebration. Indian housewarming parties are always celebrated with friends and family.
Gruhapravesam is a very popular function in Indian culture. People invite their friends and family on Grigapravesham occasion.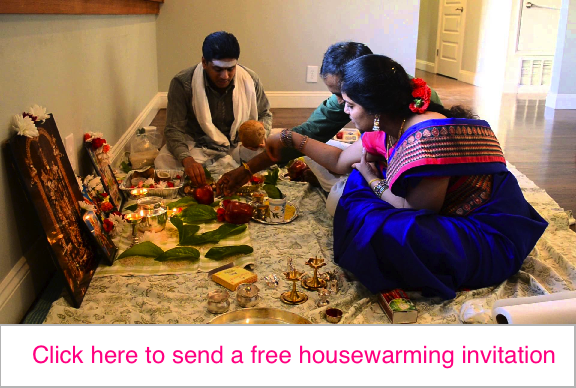 Earlier days, people invite their guests traditionally by calling or sending them printed invitation cards. But not you can invite everyone for the housewarming party using free online housewarming invitation tool for Indian. These cards are free of cost and are much more reliable than the traditional postal cards. All you have to do is select your favorite template, enter all the details and send you card to the email ids of all your friends and relatives.
Once you have decided the time, date and venue for your party, all you have to do is pen down the words for your invitation. Finding out wording for housewarming invitation cards could be quite a task.
Here are some of the most common wording samples for Indian housewarming invitation cards
*********************************
Mrs and Mr ABC
cordially invite you to grace the auspicious occasion of
Griha Pravesh
of their new dwelling to be held on
Date and Time
 *********************************
We earnestly solicit your presence on this occasion
to have dinner with us and bless our home
With the blessings of God and all our elders
We have been able to fulfill our dreams of
Moving into our new home
House name
On this auspicious occasion of
Grihapravesham
 *********************************
We would like to share our joy with family and friends
Please grace us with your presence and blessings
We solicit your gracious presence to share our joy
And happiness on the occasion of our
Housewarming Party
On
Date, Time
At
Venue
Please join us for dinner anytime from 7:30 pm to 10:00 pm
 *********************************
Mrs X and Mr Y
Cordially invite you with family and friends
On the auspicious occasion of
Vastu Pujan
Of our new residence
On
Date, time
Lunch: 12:00 pm to 3:00 pm
Residence Address:
 *********************************
Our welcome mat is out,
Just like before
But now, we have a different door
Join us for our housewarming party
Date:
Time:
Venue:
The boxes are unpacked, the interiors are set.
And it's time you join the celebration at our new residence.
Date, time, Venue
 *********************************
A home is made with love. And it is this love that we would like you, to share with us.
Come join us, in making our new house our home.
Date, time, Venue
We finally moved into a nest of our own.
Please join us for a housewarming party.
Date, time, Venue
 *********************************
My family and I request your presence at our new home to celebrate a new chapter of our lives. Our housewarming party is on (date) at (address). Please do come and celebrate with us.
 *********************************
We have fully unpacked and ready to party! You're invited to our housewarming ceremony in our new place at (address) on (date). Celebration starts at (time).
 *********************************
We moved to our new place at (address). To celebrate this wonderful event, we invite you to come to our housewarming party on (date) at (time). We will have dinner (or lunch depending on the time of our party) and drinks to commemorate the event.
 *********************************

Before you start sending out the invitations, you have to make sure that you have mentioned the date, time and most importantly the new home address. On online invitations, you can also include a map giving directions to the house. It is also important to include your telephone number so that the guests can contact you in case of any confusion.
If you are using online invitations for housewarming, your guests can immediately respond through the easy to use RSVP option.