A birthday party is a very treasured moment for your kid. Most of the kids have huge expectations for this day and it is important that you do something to make them feel special. Indian Birthday Parties for kids have to include a large variety of games and so many kinds of entertainment options. The fun, food, music and entertainment have to fall within your budget as well.
Indian Kids birthday party in Chennai, Bangalore and all other major cities of Indian are filled with a lot of fun and frolic. You have to plan everything well so that you don't go way beyond your budget when celebrating your kids birthday party in Bangalore or any other city of India.
Birthday Menu, Indian Birthday decorations, Indian birthday party invitations and birthday entertainment are very important for a kids birthday party. Here are some tips to make an Indian kid's birthday party successful and memorable.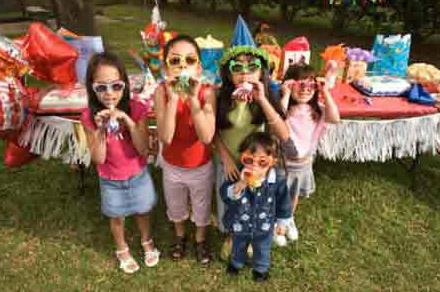 Ask for your kids ideas when you are planning his/her birthday party celebrations. The kids are small, but they definitely have their own ideas for their special day. You must also remember that your kids know best of what his/her friends would enjoy.
You must ask him and decide the theme of the Indian birthday party. According to them theme, you can get plenty of decorations and return gifts in the market.
A very important thing to remember is that you must not leave out inviting any of his friends for the party. Take your kid to the nearest bakery and let him/her choose the cake design that they would like. You can also ask your kid about the kind of food that he and his friends would enjoy for the party. You must also take him while shopping for the birthday return gifts for his friends. However, make sure that you let him know about your budget before he decides what he wants to get.