Do you have your husband celebrating his birthday soon? There is a lot of planning you have to do to make it one of the most memorable days of his life. He should indeed feel extra special on his birthday. For that, you have to come up with the best birthday party ideas.In addition to organizing the party, you must also buy some good gifts for husband. This is the best occasion for making your husband feel how important he is in your life.
Shower him with surprises and make him feel nice.There are so many ideas you can choose from for celebrating your husband's birthday party in India. One of the best ideas is to invite all your close friends for a surprise birthday in India.Organizing a birthday party for husband is quite difficult if you do not know about what he would love to do for his birthday. The best idea is to plan a birthday party for your husband is go along a nice theme. Choose everything from the birthday cake to the decorations according to the theme of the party.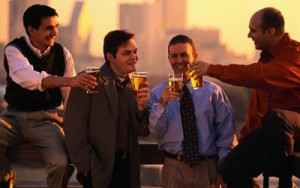 Most of the guys love sports. If your husband is a sports loving person, then link the theme of the party with his favorite football team or basketball team. You can also prepare food that he loves the most. It would also be great to ask his friends to come dressed in the team's jerseys.
You could also gift him with tickets to his favorite team's game.If your husband loves a particular TV show, then you could choose the show as your theme. The room has to be decorated so that it looks like the set of his favorite television show. For a star trek fan, you can choose to serve a blue drink and call it the "Romulan Ale". Hang around some fake greenery and add some party lights to make your party room look like a forest. You can also add some music that suits that environment. Another idea is to throw out a murder mystery party. Choose some nice interesting games for the party.
You could also choose your husband's favorite pastime as the theme of the party. Make a nice exhibition of your husband's entire collection and ask his friends to speak about them. For a video game fan, you can organize a video game tournament with his friends featuring his most loved game.You can check online for an amazing collection of ideas for throwing an exciting birthday party for your husband. Pick out the best ideas and make sure you make it an extra special day for him.