A surprise birthday party is an amazing thing at any age. If you have any dear ones celebrating their birthday soon, then you could organize a surprise birthday party for him or her. This would be so much fun to you and your dear one.
Here are some tips that must be followed when you put up a surprise birthday party for anyone.
Remember it's a secret!
Now, this is the most important point that you have to keep in mind when you are organizing a surprised birthday party for her. You must make sure that you tell only the closest friends and relatives as you don't want to spoil the surprise for your loved one. One of the worst things you could do when you are organizing a surprise birthday party is telling too many people about it. You must also make sure that the person for whom you are throwing the party does not see any decorations of other items purchased for the party.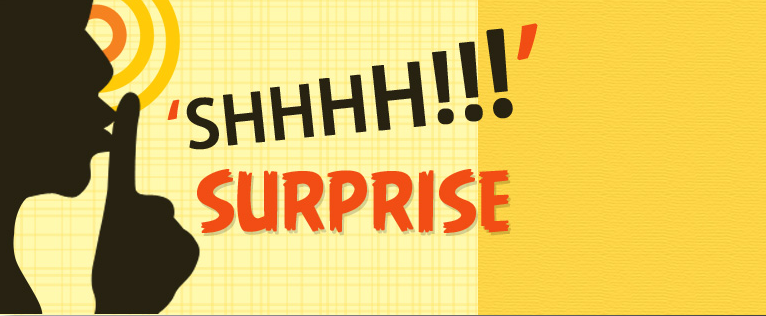 Plan a convenient date
You must plan a proper date and make sure that the special person for whom the party is held will be away until party time.
No visible decorations!
A surprise party should be totally surprising, so make sure you don't let her see the decorations or guests before she comes into the party place. If the guests could park the car a little away and walk over to the party place, it would be easier to keep the surprise. But, make sure you get some good decorations and make the place look amazing. Don't forget to get a cake as well.
Make a proper guest list
You definitely need to invite your near and dear ones to the party. So make sure you make a guest list and send a free online invitation to all of them. Do not forget to mention that it's a surprise birthday party in your invitation card.
Plan some good games
You need to make the day special and for this you will need to organize some games and activities for the day. It would be nice to organize a group game which everyone would enjoy. If you are holding the party for a kid, then you could also hire a magician or clown to the party.
Plan the party on another date.
It is best that you organize the party on a different date. A few days before the birthday would be the perfect time to hold a surprise birthday party.
Reconfirm with your guests on the previous day.
You must make sure that you remind your guests about the party at least a day in advance. If you are using online invitation cards from Yoovite, then automatic reminders will be sent to all your guests before the party.
Switch off the lights and yell SURPRISE!
Now that everything is set and your guests have arrived in time, make sure you switch off the lights and shout our SURPRISE as soon as the special person comes in.
Enjoy your surprise party!